Introducing Mekari Expense
Manage expense policy and workflow easily with Mekari Expense
Mekari Expense lets you organize expense policies, line approvals, up to reimbursements securely with ease.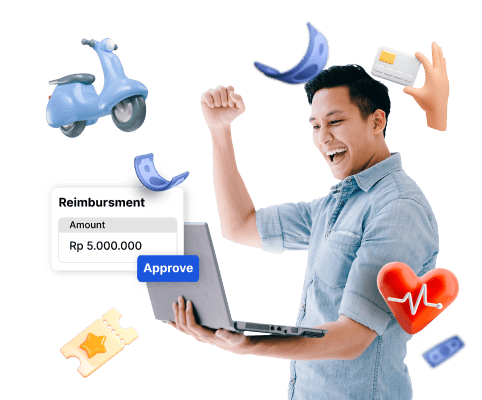 Why Mekari Expense
Mekari Expense provides end-to-end expense management to make it easier for you to accommodate the needs of your employees.
Personalization and analytics
Obtain a bird's-eye view of all employee expense management activities.
Category and policy management
Set limits on employee expenses based on categories and max. reimbursement limits.
Workflow management
Streamline business processes with customizable approval flows and other adjustments.
Flexible mobile-based access
Accessible anytime and anywhere by employees via mobile application.
Centralized and integrated database
Direct integration with Mekari Talenta for streamlined HR administration management.
How it works
We provide you with an easy way on how to manage expense and reimbursement without any hassle.
Select expense categories
Choose any categories that best suit your employees for them to proceed with the reimbursement.
Set limit and criteria
Set a limit and create a budget for reimbursements across all employees in your company.
Set approval workflow
Set up line approval and create custom workflows for each category.
Disbursement
Distribute reimbursements instantly through simplified HR administration with Mekari Talenta integration.
The expense and reimbursement process is safer and faster with Mekari Expense
Book consultation
At Mekari, we grow in Indonesia with industry in Indonesia
Mekari provides innovations that allow us to meet business needs with various use cases in various industries.
"There are 2 important factors in choosing a platform, namely features & price. Products from Mekari have complete features and competitive prices. Truly fits our needs. Akseleran is a 
happy customer."
Efficient
93%
Simplified business process
Schedule free consultation with Mekari Expense
Discuss directly with our consultants how the Mekari Expense bring your business to the next level.