Key features in an online HR system can work well if indeed the use of the related application is right.
Every company encourages all its employees to be able to work effectively and efficiently.
With a working system like this, the company can more easily achieve the target following the expected ideal so that the profit can be felt by all parties.
To support employee performance, companies can use online applications including online HR applications.
The existence of this HR application will help them in working and completing all tasks. This application will help with all the tasks that must be done by the HRD team.
When choosing the HR application to be used, you should check and consider in advance all the features offered on the application.
If the features are complete, HR can do all its tasks more easily, quickly, and practically.
Even the management of employees can be done using only one application. Furthermore, some of the features that should be found in the HR system application include the following.
Employee Database as Key Features in Online HR System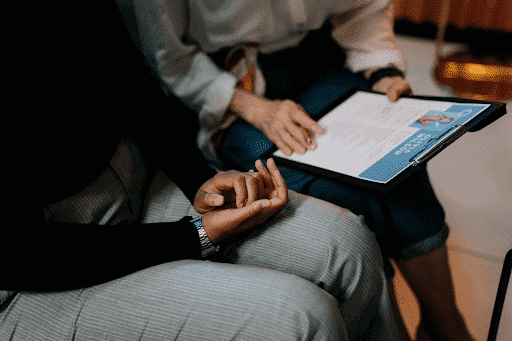 Another key feature in the online HR system is the employee database feature.
Employee databases must be owned by the company for administrative completeness.
This feature can make it possible for companies to be able to store each employee's database completely.
Later this database will be integrated into all the features in the application. 
Also Read : 10 Important Key Features in Online Attendance Management System
Key Features in Online HR System Such as Automatic Time Off or Employee Leave
The online leave or employee time off feature becomes one of the features expected to exist in the applications used.
The HR team does have a duty and responsibility in calculating the amount of leave of each employee.
Starting from the leave calendar and leave allowance for each employee to the leave policy for each work needs to be coordinated by the company's HR team.
To facilitate his work in managing employee leave, HR should use the HR application in which there is an online leave feature so that employees can also apply for leave following the provisions and policies provided by the company.
Also Read : The Importance of Geotagging in Online Attendance System
Online Absence Feature
Furthermore, the key feature in the online HR system is the online absence feature.
Even this online absence feature seems to be a mandatory feature that must be in the HR application.
Now employee absence can be done just by detecting facial recognition on their respective devices.
Later the absences carried out by each of these employees can be recorded directly on the cloud server that is incorporated with the HR application.
This will make it easier for employees to be able to monitor each employee's absence.

Reimbursement Claims
We recommend that the HR application in it also has a reimbursement claim feature so that each employee can more easily submit reimbursement claims.
So the claims that will be submitted by employees can be filed only with an online system.
The implementation of claims becomes easier and faster so that the company can immediately process the claim adjutant.
The submission of a very practical claim is certainly more effective and efficient both in terms of time and cost and even energy.
For that, HR can choose an online application in which there is a reimbursement claim feature so as not to harm the company as well as employees.
Employee Self Service Feature
The key features in an online HR system must include HR system include the employee self-service feature.
So that it can help the employee to perform anything related to the HR needs and administration independently.
This usually can be used through a smartphone and connected to the HR network system.
With this feature, everything can be done automatically with an efficient and effective approach.
Talenta is an online HR system that provides employee self-service.
Employees can request attendance, leave, and reimbursements by themselves using Mekari Talenta.
Key Features in Online HR System Such as Payroll Features
Payroll calculations are also very important for a company.
This payroll itself includes HR activities related to the calculation of absenteeism and overtime and employee leave.
In addition, payroll also calculates the deductions and incentives for delivering salary slips.
Also Read : 5 Key Features in Online HR Software
Key Features in Online HR System Such as HR Report
Like all other divisions, of course, the HR team must also provide reports related to all types of work.
With the presence of online HR applications, HR reports can be compiled more quickly and accurately.
Because reports can be made based on all data recorded in an updated manner.
In addition, data is also recorded in real-time so that anyone does not have to worry about the truth of the data. That is why it is one of the important key features in the online HR system.
Reimbursement Management Features
In the online HR application, there is also an applicant management feature that is usually needed for various things.
For example, to support the reimbursement claim process and others. Therefore, this feature is important to support the HR management system.
Payslip Key Features in Online HR System
The payslip feature is also very important and necessary in HR applications.
Complementary features in payroll activity must indeed be ensured so that it can help employee performance in performing payroll tasks and activities.
The payslip itself can be useful to provide clarity on the details of the salary received by each employee.
Salary slips can also help the process of transparency of salaries received by each employee.
In this payslip, there are detailed salary details so that employees who receive it can look at it. So the process of salary control both by HR and by employees can always be done.
The key features in the online HR system can now be found in one of the best types of applications.
For that choosing and using the most appropriate HR application and its use is very easy.
This HR application must be friendly so that it can be used by all parties who use it even for novice users.
In addition, all features must also be able to work well and as much as possible until the work of the HR team can run smoothly.
Try Talenta for free and discuss your HR needs with our team now.